If you do too, swing on over to the and view the Christmas Card Carousel (via Walk with me by faith)- I'm sure you won't be disappointed!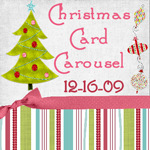 In the past I've been a 'one picture Christmas card giver', however this year I decided to spice it up bit!

I absolutely love how the cards came out, and the colors/flowers are totally my style!
The photo on the left is of Mr. D and I ice skating on the cruise we took in September, the middle photo is from Thanksgiving (thanks photographer Dad!), and the picture on the right is from our trip to Georgia in April.


Christmas cards were created and printed through www.samsclub.com